About Areca
---
Areca Technology Corp. established in 1999 is one of a few major RAID Adapters & SAS HBAs makers (true-makers) in the world today (excluding those Re-branded Names but OEMed from the original maker). Areca engineer's team has over 30 years of disk array relative firmware/BIOS, software application, device drivers and ASIC technology. Areca has completely committed its entire research and development effort to disk array technologies that yield fastest performance, best reliability, and lower cost points than competitive disk array solutions.
Areca offers a full line of RAID & Storage products: from PCIe SATA RAID, SAS HBA, SAS RAID Adapters to External RAID modules, Thunderbolt , USB 3.1 Gen 2 and complete RAID Systems, even a FC Gateway / Bridge for SAN RAID connectivity; and it has the broadest OS supports: Windows, Linux, BSD/FreeBSD, XenServer, illumos, unRAID, FreeNAS, NAS4Free, Solaris 10/11, and Mac OS X 10.5.x or Higher. From Areca's product list, you can always find some things that you're your budget/feature/performance requirements.
Corporate Mission
---
Areca was founded on the philosophy of providing leading-edge technologies, innovative designs, and delivering the highest-quality products and offering complete customer services.
Performance
Delivers excellent service and technical support
Pursues time-to-market leadership
Ensures utmost reliability, availability and serviceability
Positions technological leadership
Engineer Team
---
Areca engineers have above thirty years experiences in storage products. Maintain the leading position by offering highest-performing, value-added products and highest-quality services to channel and OEM's markets. A field-proven modular RAID controller's firmware provides the I/O interface flexibility and achieves high data throughput and availability.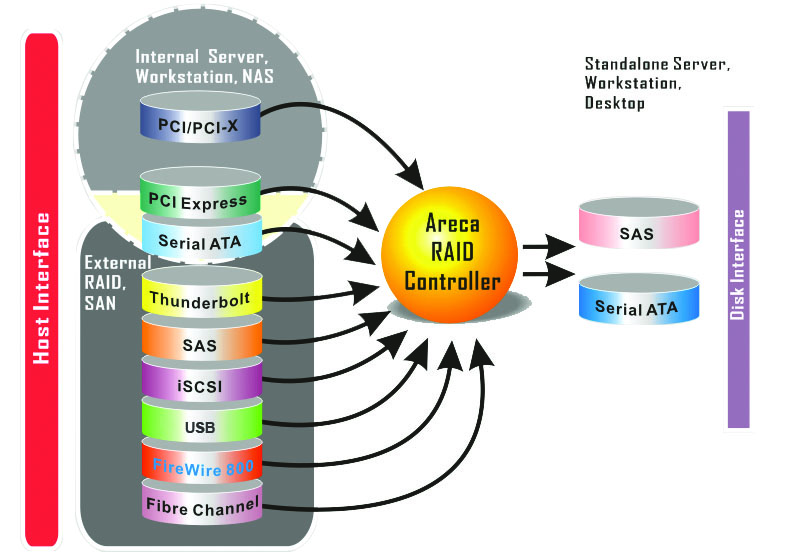 Successfully created the DC-390 Series SCSI controller & become the best reputation SCSI adapter in the World.
Areca's engineering team had well experienced in the PCI IDE Controllers for National Semiconductor, IDE Disk Cache Controllers for Buslogic, SCSI Disk Cache Controllers, SCSI Controllers, PCI Main board, EISA Main board and Local bus Main Board……
Areca's engineering team were the one who made the first and only IDE Cache RAID Controller in the world.
Areca was the first one to have its own ASIC for RAID-6 functionality, long before the Intel's IOP and PowerPC (LSI) were available for RAID-6.
Areca is the only other RAID manufacturer who is utilizing the LSI/PowerPC ROC besides LSI but with Areca's own RAID Stack, firmware, and OS driver set, not like those OEMs who just simply re-brand the LSI's with 100% LSI's RAID stack, firmware and driver.