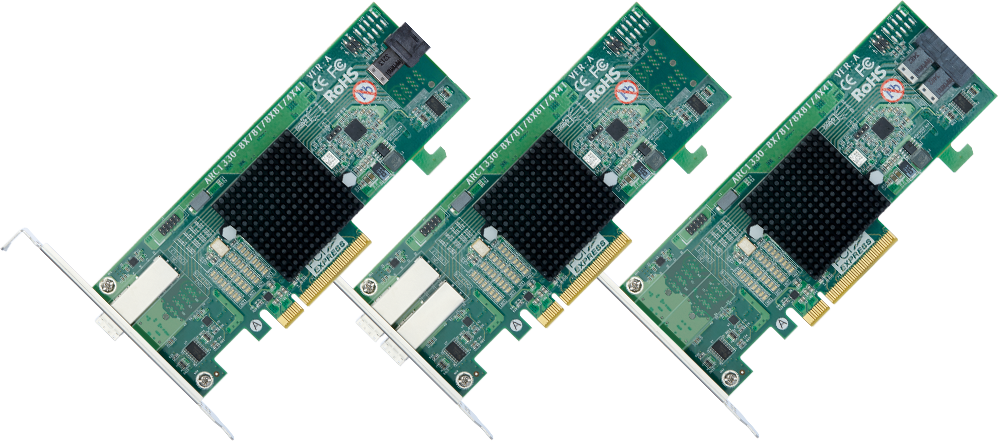 ARC-1330 Series
(PCIe 3.0 12Gb/s SAS Host Adapters)
Product Highlights
---
✵ PCIe 3.0 x8 lanes ( x8, x4, and x1 lane widths)
✵ Up to 12Gb/s transfer rates per SAS port
✵ Support 3.0, 6.0 and 12 Gb/s SAS and SATA link rates
✵ Connects to SAS and SATA HDDs, tape drives, SSDs
✵ Supports SSP, SMP, STP and SATA protocols
✵ Supports the SATA Protocol defined in the serial ATA, Revision 2.6 specification
✵ Address up to 128 total end-point devices via SAS expanders
✵ API library for customer to write monitor utility
✵ System status indicates through global HDD activity/fault header
---
PCIe 3.0 12Gb/s SAS Host Adapters
---
The ARC-1330 series is a low profile host adapter. It brings the fastest available connections to SAS data transfer rates of 12, 6, and 3 Gb/s per lane and SATA data transfer rates of 6 and 3Gb/s per lane interface storage on any computer, workstation and server with PCI Express 3.0 interface.
The adapters are backwards compatible with existing and future RAID, and expander solutions. It provides maximum bandwidth and I/O connectivity for high-end server-based storage systems with internal storage or when connecting to large-scale storage enclosures.
ARC-1330 Series 6Gb/s SAS Host Adapter
ARC-1330-8i
ARC-1330-4i4x
ARC-1330-8x
Host Bus Interface
x8 lane PCI Express® 3.0
Ports
8 x internal
4 x internal & 4 x external
8 x external
Drive Connectors
2 x SFF-8643
1 x SFF-8643 & 1 x SFF-8644
2 x SFF-8644
Data Transfer Rate
Up to 12Gb/s per port
I/O Controller
88SE1485
Devices Support
128 X 3Gb/s, 6Gb/s and 12Gb/s SAS/SATA
Cable Support
Passive Copper
Physical Dimensions
MD2-Low Profile: 167(L) X 64(H) mm
Power Dissipation
Typical: 7.5W
Operating Temperature
0 °C to 60 °C with 200 LFM airflow
Operating Humidity
10% to 85%, non-condensing
Brackets
Full height and low profile
Key Features

Connects to SAS/SATA HDDs, solid state driver (SSDs) and removable media (DAS/JBOD)
Support a maximum 128 SAS/SATA devices using SAS expander
Serial Attached SCSI (SAS-3.0) compliant
Hot-plug capability
Support staggered spin-up, hot-plug and Native Command Queuing (NCQ)
Support port multiplier
Support ATA-8 microcode download for upgrading SATA disk drive firmware
Support SES microcode download for upgrading enclosure expander firmware
Operating Systems
---
Microsoft Windows
Red Hat, Centos, SUSE, Ubuntu
XenServer ()
FreeBSD ()
macOS
Driver will be available in Q2/2019
Management Monitor
---
ArcSAP Storage Manager
Graphical-based management utility
McSAS Utility
Command-line interface
API code support
McBIOS Configuration Utility
Legacy configuration utility
Flashable BIOS support
Monitors/Notification
Enclosure management for internal port via LED and SES3/SGPIO
Enclosure management for external port via SAS expander
Downloads
---
File
Version
Date
ARC-1330 BIOS
2.0
2019/09/06

NOTE:
Update BIOS Utility

ARC-1330 (for old Mac Pro)
2.0
2018/05/07

NOTE:
This BIOS is for ARC-1330 installed on the old mac pro that it has PCIe gen 2 slot to get better performance.