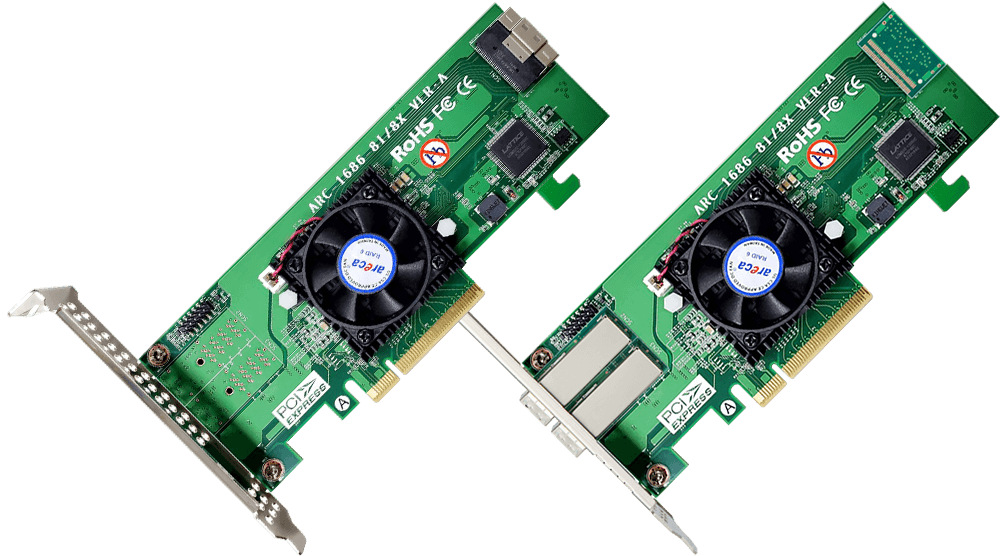 ARC-1686-8I/8X
(8 Ports PCIe Gen 4.0 Cost-Effective RAID Adapters)
Product Highlights
---
✵ Tri-mode interface at each drive ports-12Gb/s SAS/SATA/ Gen 4.0 PCIe (NVMe)
✵ x8 PCIe Gen 4.0 host interface
✵ Hardware secure boot ready
✵ Universal Bay Management (UBM) management
✵ SFF-9402 compliant connector pin-out
✵ SED support for hardware encryption capable drives
✵ Redundant flash image for adapter availability
✵ Support for SAS tape devices and transport layer retries (TLR) for error handling
✵ RAID levels 0, 1 (Simple/Multi Mirroring), 10, Single Disk (Single/Dual/Triple) or JBOD
✵ Broad operating support including Windows, Linux (open source), FreeBSD (open source), Mac and VMware
---
Ultrafast Transfer Speed
---
Unprecedented Performance
ARC-1686-8I/8X PCIe Gen 4.0 Cost-Effective RAID Adapters is built to deliver unprecedented performance, using only carefully, best-in-class components. These include the dual core Broadcom SAS3908, PCIe Gen 4.0 and tri-mode ROC.
---
Powerful Broadcom Tri-mode ROC Engine
At the heart of ARC-1686-8I/8X is the incredibly powerful Broadcom SAS3908 dual-core ARM A15 tri-mode ROC, giving effortless performance as desirable. It delivers storage interface PCIe Gen 4 NVMe, 12Gb/s SAS, 6Gb/s SATA, and the security of data protection. Damage in a software RAID is considered as the consumption of massive computation and memory bandwidth on the host. The ARC-1686-8I/8X hardware RAID relieves the parity generation burden from the host and maximizes application processing performance.

---
High Bandwidth PCI-E 4.0 Support
---
To run the PCIe Gen 4.0 slots in Gen 4 speed, please must install the ROC which supports PCI Express 4.0. If you install the PCIe3.0 ROC, the PCI Express 4.0 slots will run only at Gen3 speed.
Higher bit rate - 16.0GT/s

Higher bandwidth per lane - 2GB/s

Higher efficiency - 98.5% encoding efficiency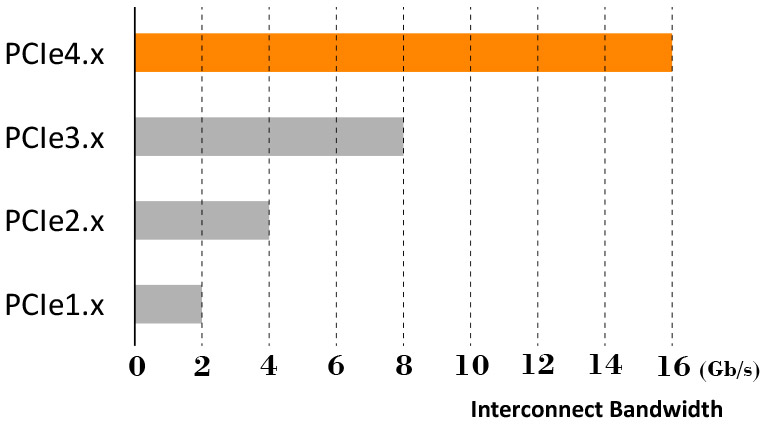 8 Ports PCIe Gen 4.0 Cost-Effective RAID Adapters
---
The new generation ARC-1686-8I/8X family offers advanced technology for increased performance and improved enterprise data protection. They were designed with 1.6 GHz dual core ROC processor and PCIe 4.0 interface for the most performance-hungry database and IT applications. Based on the ARM A15 PCIe 4.0 x8 to SAS/SATA/PCIe RAID on Chip (ROC) controller, the ARC-1686-8I/8X cost-effective tri-mode RAID adapters can offer both PCIe Gen 4.0 host and 12Gb/s SAS/SATA/PCIe (NVMe) tri-mode storage interfaces.
8 Ports PCIe Gen 4.0 Cost-Effective RAID Adapters
ARC-1686-8I
ARC-1686-8X
Form Factor
LP-MD2 : 64.41(H) x 167.65(L) mm
I/O Processor
Tri-Mode Dual Core ARM A15 1.6GHz ROC
Drive Connector
1 x SFF-8654 [x8]
2 x SFF-8644 [x4]
Drive Support
12Gb/s SAS, 6Gb/s SATA, Gen 4.0 PCIe (NVMe)
Max Devices Support
32
Management Port
In-Band: PCIe
Enclosure Ready
SGPIO, SES2 and UBM
Operating Voltage
12V
Power Consumption
Approximately 10.2 Watts
RAID Levels
0, 1 (Simple/Multi Mirroring), 10, Single Disk (Single/Dual/Tri ple) or JBOD
Software Package
Same as ARC-1886 Tri-Mode RAID Adapter
RAID Features
---
RAID level 0, 1 (Simple/Multi Mirroring), 10, Single Disk (Single/Dual/Triple) or JBOD
Multiple RAID selection
Configurable stripe size up to 1MB
Support HDD firmware update
Online array roaming
Online RAID level/stripe size migration
Online capacity expansion and RAID level migration simultane ously
Online volume set growth
Instant availability and background initialization
Support global and dedicated hot spare
Automatic drive insertion/removal detection and rebuilding
Support for native 4K and 512 byte sector SAS and SATA devices
Support UNMAP command
S.M.A.R.T. support
Multiple pairs SSD/HDD disk clone function
SSD automatic monitor clone (AMC)
SED support for hardware encryption capable drives
Operating Systems
---
Microsoft Windows
Red Hat Linux, Centos Linux, SUSE Linux, Fedora, Debian Linux, Ubuntu Linux
FreeBSD
XenServer
unRAID
macOS
VMware ESXi
Management Monitor
---
McRAID Storage Manager
Web-based GUI management utility
Graphical-based management utility
McRAID Utility
Command-line interface
API code support
CIM provider for VMware
McBIOS Configuration Utility
Legacy configuration utility
Flashable BIOS support
Monitors/Notification
SNMP
SMTP
enclosure management (UBM, SES-2 and SGPIO) ready