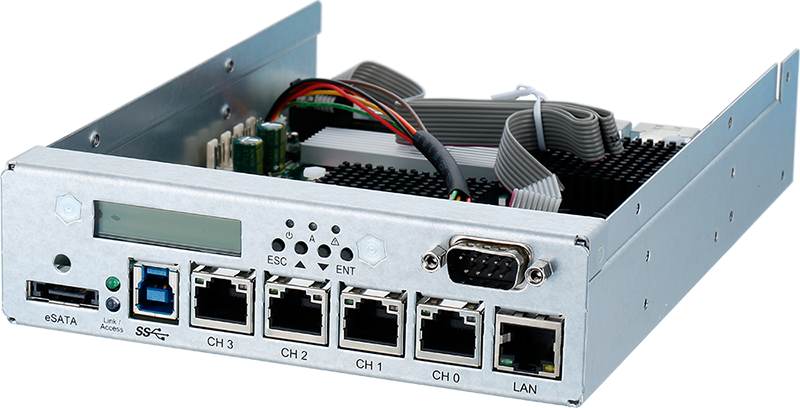 ARC-5066
(GbE(x4) / 6Gbps eSATA / USB 3.0 to SATA RAID Storage Subsystem)
System Architecture
---
✵ Support up to 24 x 6.0Gbps SATA disk channels
✵ Support multiple host:GbE(x4)/6Gbps eSATA/USB 3.0
✵ Support up to 2GB, optional BBM cache
✵ LAN with MPIO, MC/S, Trunking and LACP support
✵ RAID 6 and advanced power management
✵ Support HDD firmware download
✵ With LACP enabled, performance: 415 MB/sec Reading, 324 MB/sec Writing
---
---
I/O Interface
1 x 6.0Gbps eSATA
1 x 5.0Gbps USB 3.0
4 x 1.0Gbps GbE iSCSI
Management Interface
1 x RS-232 connector
1 x LAN RJ-45 connector
Disk Interface
12/16/24 x 6.0Gbps SATA ports
Up to 6 x SFF-8087 drive connector
GbE(x4) / 6Gbps eSATA / USB 3.0 to SATA RAID Storage Subsystem
---

The ARC-5066 RAID controller is a family of 8/12/16/24 6.0Gbps SATA hard drive ports depending upon the amount of storage required. The ARC-5066 supports multiple host interfaces; eSATA lll, iSCSI or USB 3.0 that can work with different application requirement.
When properly configured, the RAID subsystem can provide non-stop service with a high degree of fault tolerance through the use of RAID technology and advanced array management features. The 4 port iSCSI connections deliver high performance, advanced function, high availability, and scalable storage capacity with both direct iSCSI host and IP network connectivity.
Cost-Effective ARC-5066 Series SATA RAID Controller
ARC-5066
Processor
Quad Core ARM V7 1.2 GHz processor
Cache Protection
2GB DDR3-1200 ECC Protection
Host Interface
1 x 6.0Gbps eSATA, 1 x 5.0Gbps USB 3.0 and 4 x 1.0Gbps GbE iSCSI
Internal Ports
Up to 24 internal SATA
Drive Connectors
6 x internal SFF-8087
Data Transfer Rate
Up to 6Gb/s per port
Physical Dimensions
146(W) x 43(H) x 200(D) mm
Power Consumption
32W max
Operating Temperature
0 °C to 40 °C
Operating Humidity
10% to 80%, non-condensing
Regulatory Certification
CE, FCC
BBM Support
ARC-6120BAT121-7
RAID Features

RAID level 0, 1, 10(1E), 3, 5, 6, 30, 50, 60, Single Disk or JBOD
Multiple RAID 0 and RAID 10(1E) support (RAID 00 and RAID 100)
Configurable stripe size up to 1024KB
Automatic drive failover and detection and rebuild using multiple Global, Dedicated or Enclosure hot- spare drives
Multiple pairs SSD/HDD disk clone function
SSD automatic monitor clone (AMC) support
SED (Self-encrypting drives) function support
Support for native 4K and 512 byte sector devices
Support HDD firmware update
Hot-swap and redundant components for increasing availability
eSATA host: 8 volumes(with port multiplier), iSCSI host:128 volumes and USB 3.0 host: 8 volumes
Management Monitor
---
McRAID Storage Manager
Web-based GUI management utility
Remote configuration, monitoring, and notification
ArcSAP Graphical-based management utility
SNMP support for remote manager
SMTP support for email notification
ArcCLI (command-line interface)
API with sample and functional code
Flashable firmware via RS-232 and LAN port
Monitors/Notification
Global HDD activity/fault connector, individual activity/fault connector
LCD/I²C connector and alarm buzzer
Support 4 x 3-pin fan connector
Support 2 x 2-pin power status connector
Keep silent and adequate air flow and cooling by intelligent cooling fan speed control
Optional Prouduct - Accessories
---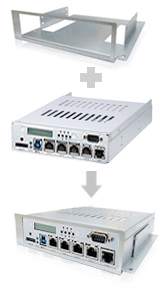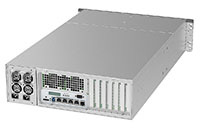 An ATX I/O Shield is a small metal plate located at the back of each rackmount chassis that provide openings for different I/O ports of a motherboard.
ARC-8028MB-Mounting Bracket for user to leverage the ATX I/O Shield position as ARC-5066 box I/O port. You can use ARC-8028MB to fit ARC-5066 box I/O port in the standard ATX I/O-Slot found in a Rackmount Chassis.
Downloads
---
File
Version
Date
ARC-5066 firmware
1.56
2019/07/30
1. Add progress % for some http operation
2. Improve FAIL_DRIVE_IF_MANY_ERROR