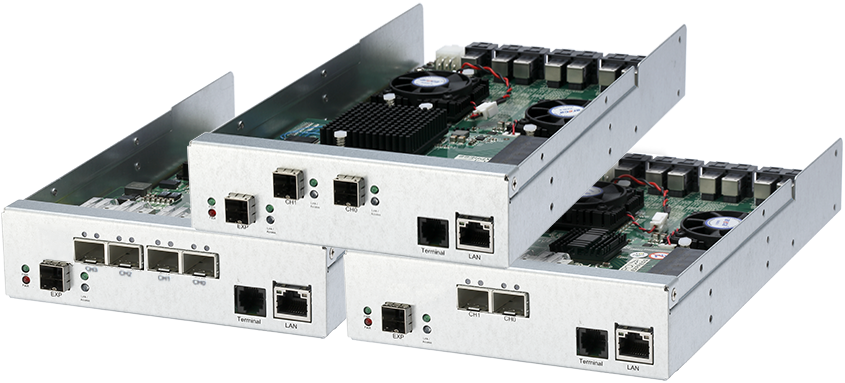 ARC-8088 series
(12Gb/s SAS External RAID Controller)
System Architecture
---
✵ Support up to 24 x 6.0Gbps SAS disk channels with six SFF8087 (Mini-SAS) connectors
✵ Support three host interface options: 12Gb/s SAS, 10Gb/s iSCSI or 16Gb/s FC
✵ SAS Expander support for connecting up to 512 SAS/SATA devices
✵ 12Gbit/s speed at each port
✵ Embedded 2GB DDR3-1866 cache
✵ Dual Core PPC476 1.2 GHz RAID-on-Chip Processor for high RAID 6 Performance and advanced power management
✵ Redundant flash image for adapter availability
✵ Support flash-based or battery backup module (FBM/BBM) ready (optional)
✵ Single or Dual RAID controller modular design
✵ Advanced configuration settings video optimized performance
✵ Support HDD firmware update all at once
---
---
Host Interface
12Gb SAS-to-SAS: Two 12Gb/s SAS Ports 16Gb/s Fibre-to-SAS: Two or four 16Gb/s Fibre channels 12Gb iSCSI-to-SAS: Two 10Gb/s iSCSI channels

High Performance ROC
Dual Core RAID-on-Chip (ROC) 1.2 GHz
2GB DDR3-1866 ECC Protection
Disk Interface
1 x SAS "Expansion Out" for an additional JBOD enclosure
Up to 256 devices using SAS expanders
Up to 24 x 12Gb/s internal port using 6 x Min SAS HD SFF-8643 connectors
12Gb/s SAS External RAID Controller
---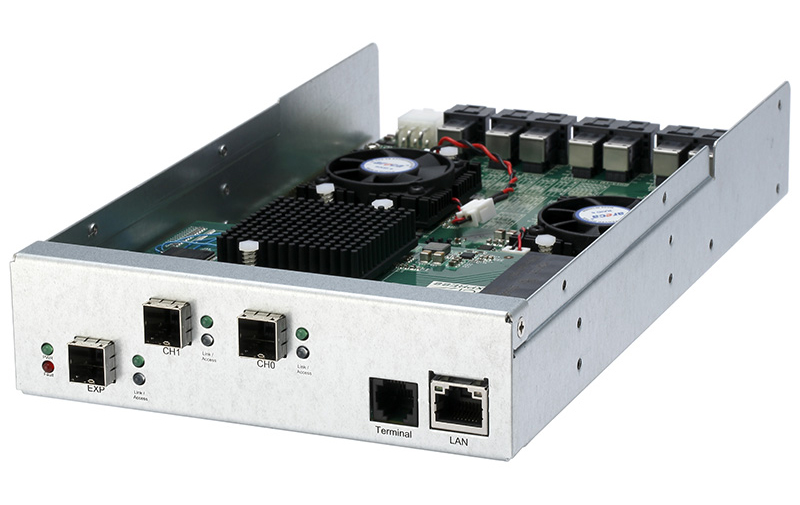 ARC-8088-SAS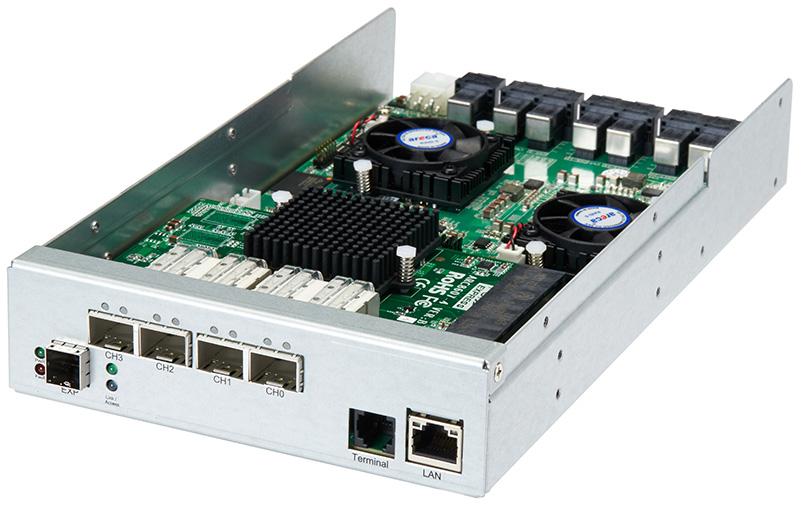 ARC-8088-2FC/4FC
ARC-8088-iSCSI
The ARC-8088 supports flexibility interface configuration; 8 x 12Gb/s SAS ports, 2/4 x 16Gb/s fibre channels or 2 x 10Gb/s iSCSI channel host and 4 x 12Gb/s SAS ports expander for performance and easy expansion. When used with 12Gb/s SAS expanders, the controller can provide up to (256) devices through one or more SAS JBODs, making it an ideal solution for enterprise class storage applications that called for maximum configuration flexibility.
The ARC-8088 RAID controller provides a rack-mounted external storage chassis capable of accommodating up to 12/16/24 12.0-Gb/s, Serial-Attached SCSI (SAS) drives or 6.0-Gb/s Serial ATA (SATA) drives. It provides three kinds of host interface link to the host board on the server system. The redundant controller model provides fault-tolerant links across separate host interface, while the single controller model provides a single, straight-through data path.
ARC-8088 Series SAS RAID Controller
ARC-8088-SAS
ARC-8088-2FC/4FC
ARC-8088-iSCSI
RAID_on_Chip
Dual Core PPC476 1.2 GHz ROC
Cache Protection
2GB on-board DDR3-1866 SDRAM with ECC protection
Host Interface
SAS-to-SAS: 2 x 12Gb/s SAS Ports
Fibre-to-SAS: 2/4 x 16Gb/s Fibre channels
iSCSI-to-SAS: 2 x 10Gb/s iSCSI channels
Host Connector
2 x SFF-8644
2/4 x SFP+
2 x SFP+
JBOD Expansion Port
One downstream SFF-8644 (4 x 12Gb/s) expansion connector per controller
Internal Ports
Up to 24 internal SAS
Drive Connectors
6 x internal SFF-8643
Max. Drives per RAID Ctrl
Up to 512 12Gb/s SAS or 6Gb/s and 3Gb/s SAS/SATA HDDs/SSD, using 12Gb/s SAS JBOD
Data Transfer Rate
Up to 12Gb/s per port
Physical Dimensions
146 (W) x 43 (H) x 250 (L) mm
Power Consumption
Typical: 65.52W
Operating Temperature
0 °C to 40 °C
Operating Humidity
10% to 85%, non-condensing
Regulatory Certification
CE, FCC
FBM/BBM Support
ARC-6120BAT121-8 / ARC-1883-BAT-8 / ARC-1883-CAP-8
RAID Features

0, 1, 10(1E), 3, 5, 6, 30, 50, 60, Single Disk or JBOD
Multiple RAID 0 and RAID 10(1E) support (RAID 00 and RAID100)
Multiple RAID selection
Configurable stripe size up to 1MB
Support HDD firmware update all at once
Online array roaming
Online RAID level/stripe size migration
Online capacity expansion and RAID level migration simultaneously
Online volume set growth
SED (self-encrypting drives) function support
Multiple pairs SSD/HDD disk clone function
SSD automatic monitor clone (AMC) support
Instant availability and background initialization
Support global and dedicated hot spare
Automatic drive insertion/removal detection and rebuilding
Support for native 4K and 512 byte sector SAS and SATA devices
Support intelligent power management to save energy and extend service life
Support NTP protocol synchronize RAID controller clock over the on board Ethernet port

Availability and Reliability

Redundant controller operation with active/active and fail-over/fail-back function
Dual-active RAID controller with cache mirroring through dedicated high speed bus
Automatic synchronization of firmware version in the dual-active mode
Multi-path & load-balancing support

Warranty
3 years
Management Monitor
---
McRAID Storage Manager
Web-based GUI management utility
Remote configuration, monitoring, and notification
ArcSAP Graphical-based management utility
SNMP support for remote manager
SMTP support for email notification
ArcCLI (command-line interface)
API with sample and functional code
Flashable firmware via RS-232 and LAN port
Monitors/Notification
Global HDD activity/fault connector, individual activity/fault connector
LCD/I²C connector and alarm buzzer
Support 4 x 3-pin fan connector
Support 2 x 2-pin power status connector
Keep silent and adequate air flow and cooling by intelligent cooling fan speed control
Optional Prouduct - Accessories
---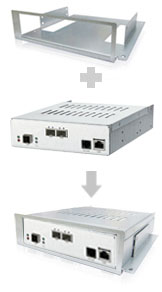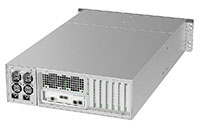 An ATX I/O Shield is a small metal plate located at the back of each rackmount chassis that provide openings for different I/O ports of a motherboard.
ARC-8028MB-Mounting Bracket for user to leverage the ATX I/O Shield position as ARC-8088 box I/O port. You can use ARC-8028MB to fit ARC-8088 box I/O port in the standard ATX I/O-Slot found in a Rackmount Chassis.